We are offer the refractometers from Rudolph Research Analytical company. Rudolph is a leading analytical laboratory instrument supplier, manufacturing precision quality benchtop instruments for the Pharmaceutical, Chemical, Petroleum, Petro-Chemical, Food, and Beverage industries. All instruments are designed to meet specific application requirements of specific industries and all are designed to exceed your requirements.
J47 Refractometers for the Food & Beverage Industry. More info here
J57HA & J57WR Digital Refractometers for Heavy Use, High Accuracy, Food Quality Testing. More info here
J57AB & J157AB Automatic Refractometers Ideal For Petroleum Industry Labs. More info here
J57TPN for Hospital Pharmacies to monitor IV Therapies and controlled substances. More info here
J157 model offers high performance and a range of features to suit many demanding applications in laboratories and harsh industrial environments.More info here
J257 Wide Range Refractometer was developed by working together with laboratory refractometer users from the polymer, petroleum,  petrochemical, pharmaceutical and essential oil industries. More info here
J357 Automatic Digital Refractometer offers one of the highest measurement ranges of any instrument in the Rudolph refractometer product line. The J357 is a perfect choice for the most demanding pharmaceutical, chemical, petroleum, essential oils, fragrance and cosmetic refractometer users. More info here
J457 Electronic, Laboratory Refractometer is the most capable instrument in the Rudolph Research Refractometer Product Line. The J457 can determine when the prism is improperly cleaned, insufficient sample is loaded, or if the instrument is improperly calibrated. More info here
VeriLinkRx for Narcotic/Drug Diversion Testing. More info here
We also offer the Digital refractometer ORD-E from KERN company.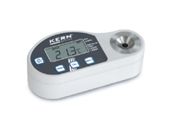 More about Main areas of application and technical parameters here